When I heard that the American Library Association was planning their midwinter conference for Seattle, I did a little dance. Not only is Seattle my favorite city, where all my family lives and where I met Dr H, but it's also where fellow YA Highwayer Kristin Halbrook lives—and the meeting was just days before she celebrates the release of her debut, Nobody But Us (tomorrow!!!). And the books coming out in 2013 are, in a word, radtastic, so I was really excited for the meeting.
One missed connection, a planeful of 13-year-old gymnasts en route to a competition, and a demibottle of Chardonnay (Thanks for the voucher, VirginAmerica!) later, I stumbled into the party that YA Highway and Stacked threw Friday night at the Westin.
It was so fun! (Pictured above, YA Highwayer Kirsten Hubbard far left with a smattering of the rest of the crowd.) And apparently we had a celebrity cameo, though we were all too absorbed in YA chatter to notice…!
The next morning I wandered the exhibit hall. I heard this was a record-breaking year of attendance for the mid-winter conference, and I believe it! Still calmer than BEA, but this ALA was hopping. I wandered to all the booths, but snapped this one of the gorgeous shelf of 2013 releases at HarperTeen. (I also met Erica Sussman, who edited Erin Bowman's Taken [among many other books], and she was absolutely enchanting.)
Kirsten and I wandered the booths (over and over again, as you never knew when those clever staffers were going to reveal new stacks of shiny ARCs…) with the crazy-lovely Amy Tintera, who is also a debut author this year with Reboot! And quite possibly the most touching experience of the entire weekend was snapping the picture of Amy signing her first book (first author signing for her, ever!) for an adorable book blogger.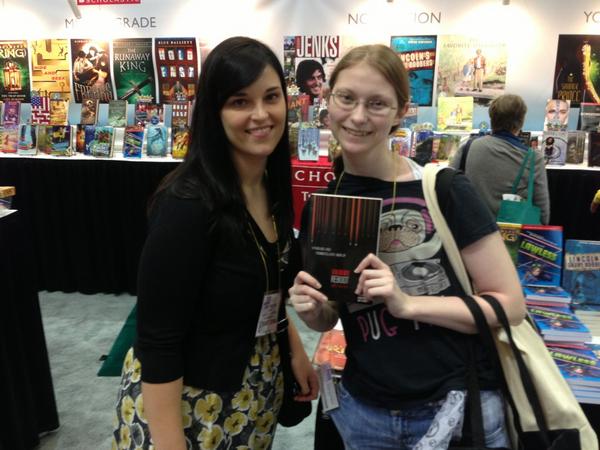 As the day segued into night, the YA Highway ALA contingent moseyed over to The Triple Door for Soho Press' awesome event.
Among many great Soho peeps, we met Margaux Froley, debut author with Escape Theory, who basically charmed our pants off. She was so hilarious I forgot to take any pictures of her! Similar: Gayle Forman was there for a bit (!!!) but I was too in awe to stun her with my camera flash. So great to be a fly on the wall, though.
Then, punchdrunk from booklove, we stumbled home with a fairly giant bag of ARCs1. What an awesome event!
Hammer admires my ALA stash
Were any of you at ALA? Did I somehow miss you?? Will you be going to any other book conferences this year? Let's meet up!
Kirsten would like you to know the bag might look small but it was mighty heavy ↩