I'm so excited today to bring you something very, extremely cool that was—once again—made possible through the magic of Twitter! I shared this recently, an accessory that I'm fairly certain all of my friends absolutely need: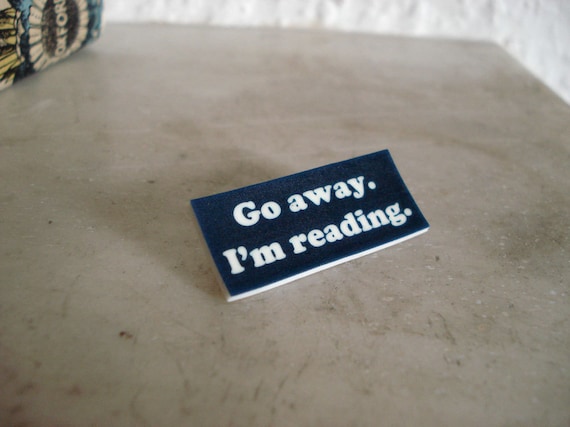 (source)
My friend Tracey Neithercott commented that it would make a great Kindle or book cover, and we commiserated that – to our knowledge – the internet had not yet created this. Enter Erin Bowman, organizer of awesome things and designer extraordinaire, who said, "Challenge accepted!"
After some brainstorming of what other great covers would fit in the "Go Away, I'm Reading" vein, Tracey, Erin, and I had some fantastic ideas. Just days later, Erin had an amazing design that was custom-made for (slightly smaller) YA books.
There are three sets of designs, all of which will allow you to silently warn everyone at the coffee shop that Reading TIme ≠ Social Time.
To get Set #1, go here:
For Set #2, go here:
And you can download Set #3 below!
At Hogwarts // In Narnia // Mt. Doom (LotR) // In the Arena (Hunger Games) // In Forks (Twilight)
Printing Instructions:

These covers will fit the traditionally-sized YA book.* Take the PDFs to your local FedEx or Staples and get them printed on tabloid paper (11x17in). We suggest a matte cardstock  (you could print on something glossy, but sometimes that causes light glares at certain angles and you want people to be able to read that Go Away message without incident). Choose a weight between 60-80lb for the paper. Anything lighter and the page will be too thin, anything heavier and folding it around your book will be difficult. You can have the store cut the printer-outs for you (it will cost a little more), or you can handle it on your own when you get home (there are crop marks in the files).
Erin also has a great tutorial up on her blog about how she puts the dust jackets on her books. I have a little different method, so here's a video where I show an alternative dust jacketing method:
Let us know what you think, and of course we'd love to see pictures of the dust jackets in action!
* There are, of course, exceptions.

"Go Away" Dust Jacket Series by Erin Bowman, Sarah Enni, and Tracey Neithercott is licensed under a Creative Commons Attribution-NonCommercial-NoDerivs 3.0 Unported License.
Based on a work at www.embowman.com
{ 109 comments }