Happy Valentine's Day! I'm posting as part of YA Highway's Blog Circus Lovefest, and I couldn't decide on just one object of affection to send a Valentine's Card to. So I gathered a few of my favorite characters, and scoured Etsy for cards that would perfectly capture my love. It was a tough job but … okay, fine, it was totally fun. I had a blast finding the cards, and casting the characters—so here they are, my Valentines!
I'd send the dreamily odd Cricket Bell (from Stephanie Perkins' Lola and the Boy Next Door and cast here as Nicholas Hoult) this fun, funky card—appropriately made in San Francisco! The polar opposite of moody, broody rocker Max, Cricket Bell was smart and a bit silly. But his loyalty and genuine nature made him one of my absolute favorite YA boys… next to Etienne, of course!
Warner from Tahereh Mafi's Shatter Me is a lot of things: controlling, manipulative, demanding, ruthless… a touch psycho? But as the book goes on it's clear there's a whole lot more to Warner than meets the eye. The promise of a heart-wrenching backstory and surprising plot twist or two is enough to get me hooked for Unravel Me, and to keep me on Team Mysterious and Tortured. But you can't just give a man like that a box of candy hearts, so Warner (played here, per the author's suggestion, by an extraordinarily smoldering fox in a tux whose name I don't even care to know because it'd ruin the mystique) would get this simple card with a complicated message by Fifi Du Vie.
Oh hi, Love Interest in the forthcoming Bitterblue by Kristin Cashore. I don't know you. Not even your name—seriously, there's no hint of anything on Goodreads even. But I'm prepared, nay, predetermined to fall madly, wildly, foolishly in love with you. And every minute we are apart? Every day that the elusive ARC of Bitterblue passes hands and I remain clueless about each of its 500+ pages? I miss you more. Happy freaking Valentine's Day, mystery dude.
Oh, Gale. Pretty, helpless, moping-in-a-meadow Gale. Get back in the coal mines, buddy—Peeta got your girl by painting himself into dirt. I know,  it sucks. But take the advice of this apt, and awesome, print (also by Fifi Du Vie) and don't get too bogged down with, you know. Thoughts.
I was also dying to give away this Valentine to a fictional studmuffin: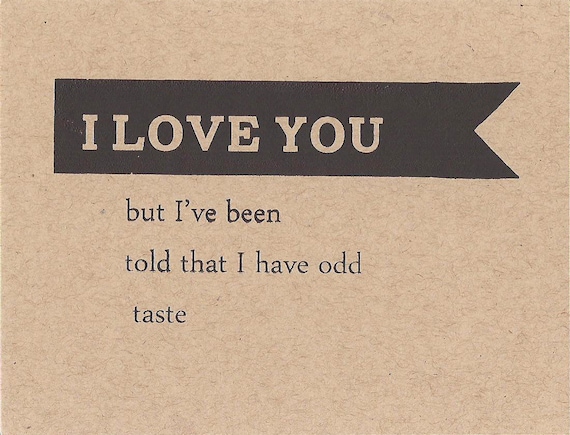 But I couldn't think of just the right guy (or gal!). Who would you send it to?
For other Valentine's awesomeness, check out the other Blog Lovefest posts, and rock out to my collection of non-romantic Valentine's Dance Break songs!
{ 38 comments }