I've spent a good amount of my time lately thinking about what "growing up" has been and/or meant to me, post-college. Once those training wheels of organized education were gone, I gained perspective on how I really learn best: trial and error. And failure. When I try, fail, and get ready to try again, I tend to prepare myself better. Preparation includes research and observation.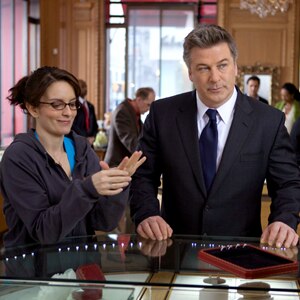 I was reading Tina Fey's memoir a few weeks ago and the glowing praise Fey gave her 30 Rock co-star Alec Baldwin caught my attention:
Anything I learned about Real Acting I learned from watching Alec Baldwin. … Alec knows how to let the camera come to him. He can convey a lot with a small movement of his eyes. He speaks so quietly sometimes I can barely hear him when I'm standing next to him, but when you watch the film back, it's all there. It may not have made me a better actor, but at least now I know why what I'm doing is terrible.
Tina Fey, Bossypants p. 188
Tina Fey may not feel as though noticing what made Alec Baldwin great helped her improve, but she knew, in specific, what he was doing that was different. Making that observation was her first step to improvement. It's hard to try to be better without identifying what "better" is.
What art form besides writing is as amenable to trying, failing, and editing to improve? First drafts simply don't get published. I have a special shelf filled with books that gave me those "Alec Baldwin" moments, so I can go back to reference them later. Anna and the French Kiss by Stephanie Perkins when I want to get inspired about voice. Daughter of Smoke and Bone by Laini Taylor when I want to study how to pull a reader into a setting. Where She Went by Gayle Forman for pacing and male POV and so many other things.
What about you? What books or authors give you Alec Baldwin moments? How have those books helped your writing process?